Gerger or Jerjer ug unsa pang malah nga po'ng
Why? baket? Nganu? unsay naa sa Jerjer? nganong sa Amerika (akong yutang nadak-an -char) or sa ininglis nga pagkasulti, ok raman nga mag istorya mo bahin sa sex, pero nganong kung mag istorya ta sa pinulungan nga bisaya bati man kaayo? Nganong mutangkag man ang imong dunggan kung mag isturyahay tag iyot. Ngano man?
Mao nay giingun nga tungud kay law ay man paminawon basta bisaya pagka sulti aning iyot, mao siguro nga na imbinto ang jerjer. Total nindot man pud paminawon, sweet og naay kilig to bone nga factor. di bah yots? So Jerjer is fine, there's nothing wrong with it. bisag si Budoy nisultig jerjer sa PDA og uban pang artista nga nag gamit na ani nga word. Or kadtong naka experyensia na.
Gi update ni karon kay perti nang Karaana sa website, balik lang sunod simana aron malingaw nakag tan aw ani nga site ta.
SALAMAT: kani nga website template gi download gikan sa freelancerfiles, usa ka website designer, og pundohanan sa web template nga taga cebu ra pud.


Pangandam kay Ininglis raba ni, basig mag dugo imong Ilong.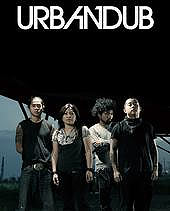 Now that the airwaves are rife with rock bands, the stage is set for Urbandub to make another ranging guitars and crashing drums with upcoming album 'Under Southern Lights.' The album follows the release of the band's 'Guillotine' single which debuts at number 1 spot on NU 107 charts.
As Gabby Alipe, the band's singer points out; "It's about the choking feeling a person gets when they find out that the person they love the most is with someone new." The accompanying video, which tackles the issues raised in the song, was directed by Pancho Esguerra—who also directed the band's song "Frailty" (from the Embrace album).

Urbandub has already justified three albums namely "Birth" in 2001 and "Influence" in 2003 under an independent label in Cebu.
Urbandub's third album (the band's first album released under EMI Phils.) "Embrace" in November 2005 have sold more than 10,000 copies and have delivered the instant hit "First of Summer" which peaked in March 2006. The latest album from the'Under Southern Lights' features 10 brand new songs.
"The name is our tribute to Cebu City where we come from and where we did most of the writing for the album. It's also a metaphor for our families in Cebu, being that they're our inspiration and guiding light," says Gabby Alipe, the band's vocalist and song-writer.
The band recorded the album at Tracks Studio (Pasig City) assisted by par excellence sound engineer Angee Rozul. "The recording was a great learning experience for the band. It was our first time to record with 2 inch tape rather than digitally which we were used to when we were still recording in Cebu. We also were privileged enough to be able to use specific types of equipment that we felt were needed for the songs, like different kinds of amplifiers or synthesizers," bassist Lalay Lim added.
In addition to being musically adventurous, the band doesn't shy away from confessional, confrontational lyrics. "Inside the Mind of a Killer", en emotive track and a duet with a guest artist Kat Aggarado of the band Sino Sikat? keeps an argument between two lovers; flowing 'Cebuana' shows Alipe letting down his guard and trying to express what it really feels like finding a new love.
From the chugging riffs and serpentine guitars of 'An Invitation' to the steely rage of 'The Fight is Over' to the tender lament of 'Evidence', Urbandub is determined of getting their music across the masses.

BLOG - Ka Blag!
Rockstar, rockers, chicks, groupies.. by: Atheng Tejano
Maniid nasad ko sa mga tawo suod ug gawas sa Whisky a Go Go ( bar kuno na nadiscover ang The Doors). Atbang ra kini sa akong gitrabahuan...sa kilid mao ang Viper room ..gawas kaha ko ug mususi sa tapad..oi puro man emo...mao ra nay akong trabaho kung way customer ug kung way hugasan. oi tuod na promote na diay ko sa pag ka server/waiter dili na dishwasher...ug nakuha na sab nako akong sweldo...lipay nako...
oi, Battle of the bands diay ron..bantog ra ang mga kabatanunan naglinya na...oi aduna nay hubog sa dalan..oi tua na ang regular homeless manghingi na sad ai...ang tattoo mania hilas pod cla mura sad cla ug miami ink..daghan pod clay gimik...naa pod cla babae puwa ang buhok..sus katol na akong kamot...uli nako cebu pa tattoo...
...dugay pa ang alas unse oi..mouli na ko akong "yes dear" ni txt na...excited na ko sa sabado...laag na sad ko sa akong pipila ka amigo...
oi adunya nisud nga customer...oi ok sad ang nawng sa gui ahak..oi take out...oi mag in-english na sad ko. (hilas!)